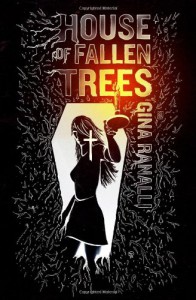 Second Grindhouse Press Book I've read. Second Gina Ranalli novel I've read. Both press and novelist are worth reading.
In House of Fallen Trees Gina creates a very
CREEEEEPY
atmosphere that puts the reader right in the midst of the action and suspense which left me wondering what's really going on until the very end. I really enjoyed the mind tricks she plays with the reader because it made me second guess everything that was happening. Is it real? Is it my imagination? What's going on? How is this story going to resolve itself? Well, let me tell you, you'll be surprised by the ending.